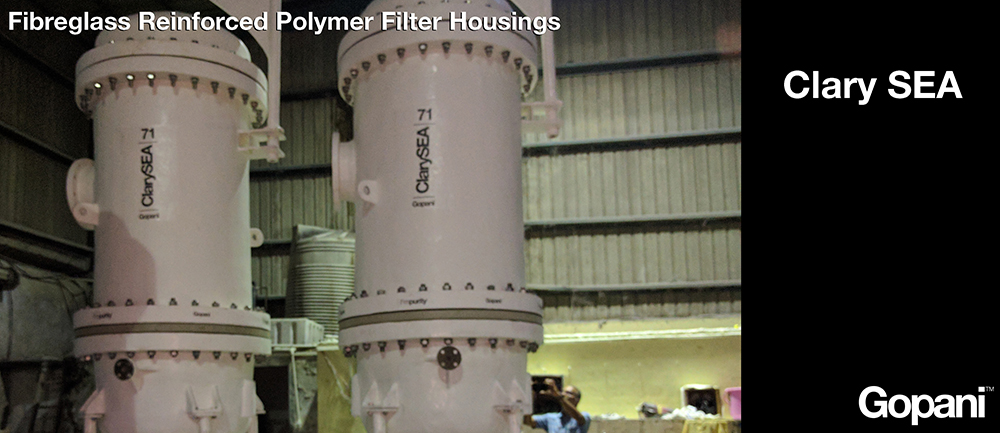 At Gopani, we are constantly trying to foresee the upcoming challenges in the filtration industry, and based on our analysis we keep coming up with newer solutions. This is an intrinsic part of our day-to-day activities. The latest idea we have been working on is producing standardized FRP (Fibreglass Reinforced Polymer) Filter Housings and making them available off-the-shelf. The news is that we are prepared to launch this product in the month of June this year. Very soon after the launch, we'll be well-stocked to ship them swiftly.
Why FRP (Fibreglass Reinforced Polymer) Housings?
As the conventional sources of water are depleting fast, there will be an increased dependence on sea water for general human requirements. We have been receiving inquiries for filter housings for sea water desalination since a few decades. More often than not, we were being asked to offer stainless steel duplex or stainless steel super duplex. Sometimes it was FRP filter housings. When it comes to dealing with sea water, stainless steel housings offer a big challenge: they are likely to get corroded. Even a rubber lining isn't a foolproof solution because the abrasive effect of sea water can create a pin hole which can then get corroded and propagate the corrosion. Besides FRP housings aren't only non-corrosive, but are light-weight and cost-effective.
Benefits of FRP Housings:
Corrosion resistance is the inherent characteristic of FRP material.
They are robust; they exhibit very good impact and abrasion resistance.
They are much lighter than their stainless steel counterparts.
Since they are lighter in weight, they are easy to transport and install.
When compared with stainless steel housings, FRP housings turn out to be an economical solution.
How We Have Designed our FRP Filter Housings?
We have been asked several times in the past by many of our prestigious clients to offer them off-the-shelf FRP Filter Housings for their sea water desalination projects. After due consideration, we sat down on the drawing board and started conceiving the most optimum designs for our filter housings. Our objective was to create a product that is easy to install and use, robust in construction, and which offers a very long operational life. Concisely speaking, what we want to offer is a high quality product which offers the optimal value for investment.
Salient Features of Our FRP Filter Housings:
Designed as per ASME section 10.
Robust and light-weight.
Designed for 100 cubic meters/hour flow, for higher flows a bank of filter housings can be installed.
Closure bolts are made up of stainless steel super duplex.
Will be made available ex-stock, so there will be no waiting time.
Final Note: We have made all the necessary preparations for the launch. So, from June 2018, we'll be carrying these housings in our inventory and would be able to serve you promptly for your requirements.
Filter Housings, Filter Cartridge Housings, Filter Bag Housings, Filter Housing Features