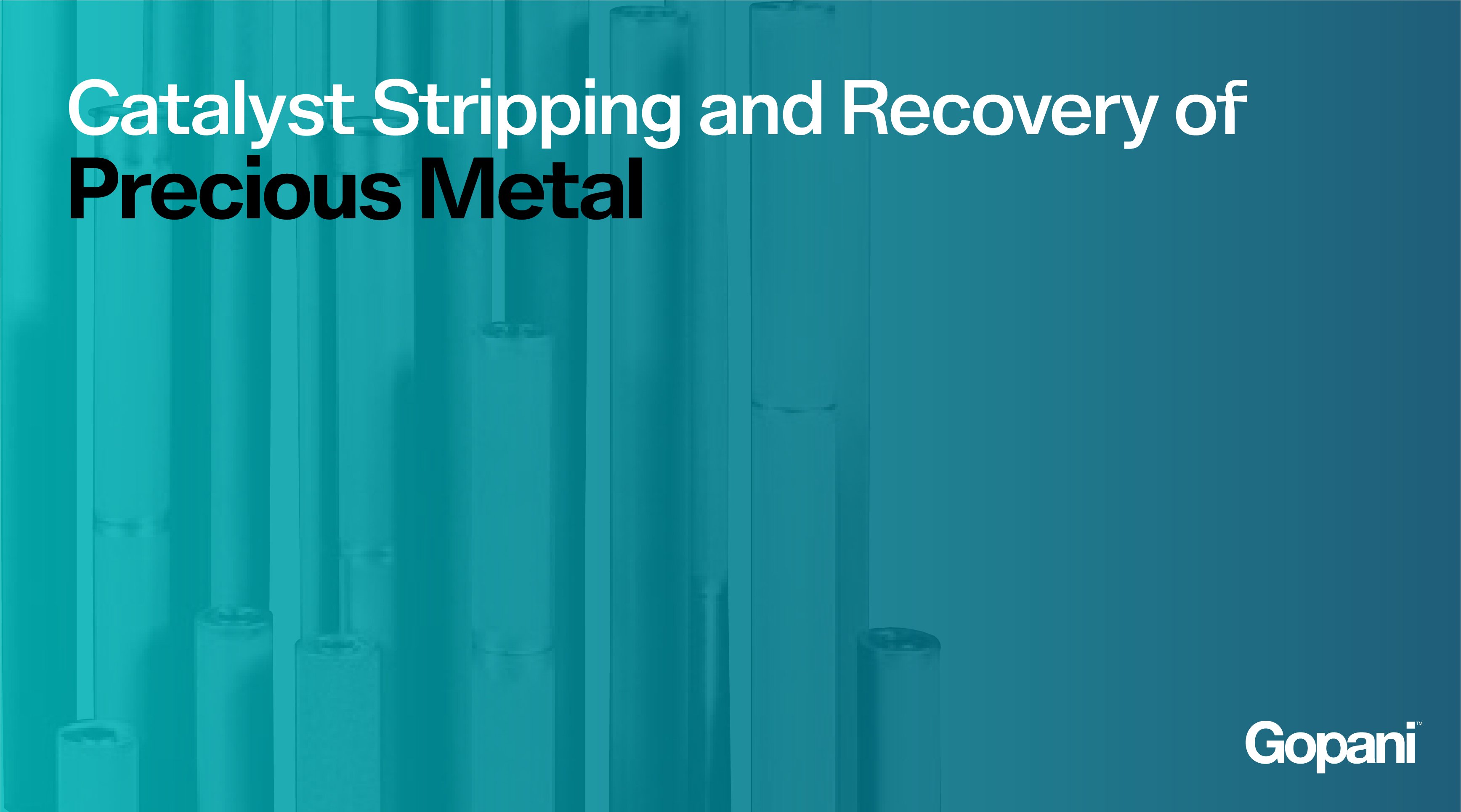 Many chemical, petrochemical and pharmaceutical processes use catalysts bearing precious metals like platinum, palladium, rhodium and gold. After repeated usage when the catalyst becomes totally deactivated, precious metals are recovered from the catalyst and its value is maximized.
At every step of recovery, filtration is one of the prime requirements. The extraction is done in multiple stages ensuring recovery to +99.95%. Gopani Products Systems has wide range of filtrations solutions specific for applications across the whole process and every step of Catalyst Recovery.
A simplified diagram of Catalyst recovery: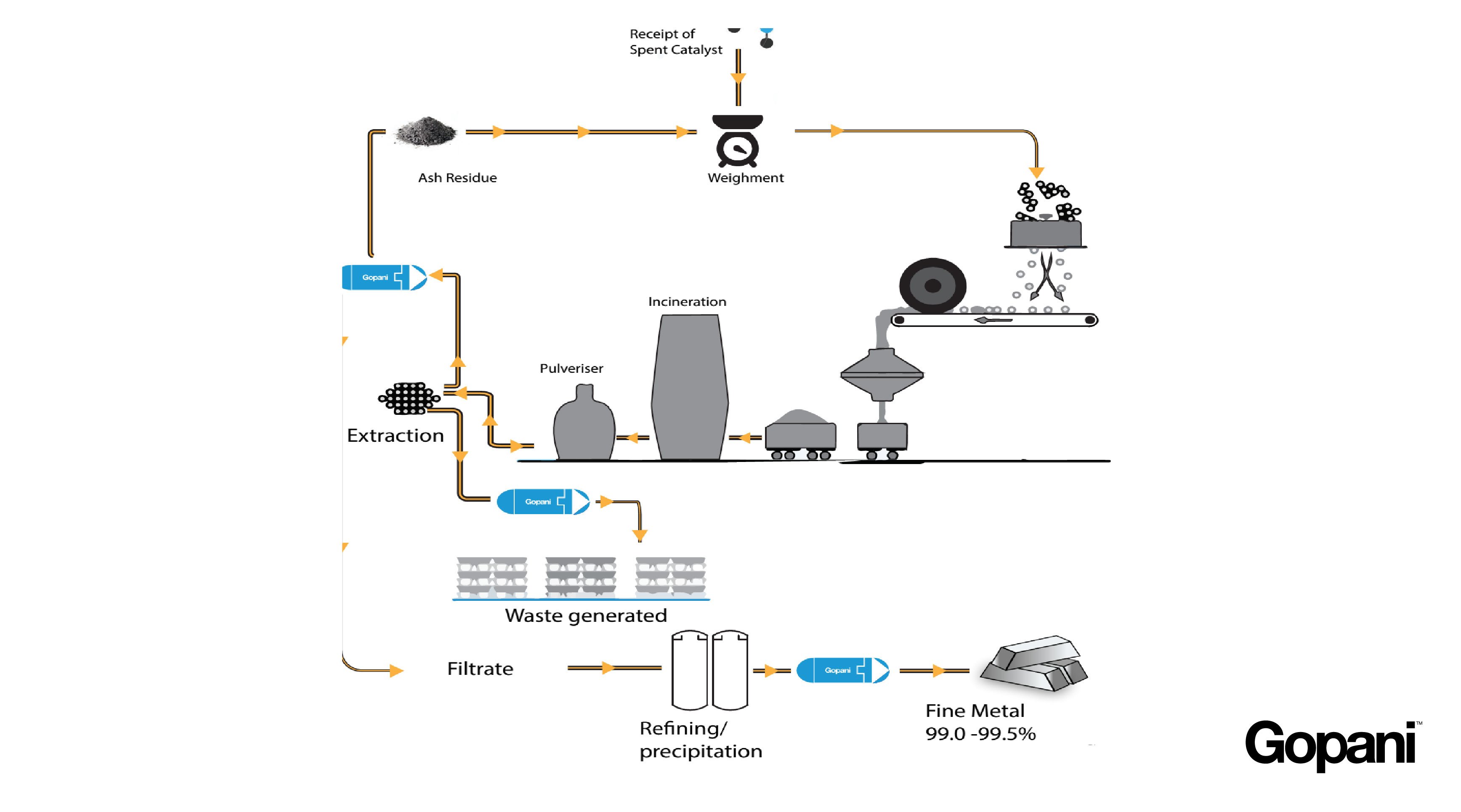 Recovery of last traces of precious metal
In any bulk Catalyst metal recovery, the metal content is firmly assessed by representative sampling methods. It is thoroughly analysed, and sometimes third parties are also involved. The third-party analysis is sometimes a mandatory requirement in a sale deed between spent catalyst seller and recovery processer. The commercial aspects are settled on the basis Metal Content, as the Catalyst Processor needs an assurance of minimum metal content extraction for commercial viability.
There are two distinct types of catalyst:
Catalyst with Combustible support. (like Carbon)

Catalyst with non – combustible Support. (Like Alumina, Doucil etc.)
Precious metals are recovered from the spent catalyst via a series of processes names:
Drying. (applicable for both types)
Analytically estimated precious metal content. (applicable for both types)
Incineration. (applicable for both types)

Pulverization

Extraction or dissolution of precious metal (applicable for type A)

Filtration for suspended solid. First step of purification. (applicable for both types)

Control pH to precipitate any other extracted /or dissolved other metallic imparity. This step is specific for specific impurity (Specific)
Here's a detailed flowchart that shows the entire cycle
The whole process ensures that the recovery of the precious metal is to the fullest in line with the Analytical Value.
At Gopani Products Systems a complete solution can be offered based on the desired recovery and process parameters. We have an extensive range of Filter cartridges and a host of filtration systems engineered to give the best results in precious metal recovery from spent catalysts.
Expert Advice!
Our experts have extensively worked with special metal recovery units, and have vast experience and understanding of problems that may slow down or adversely affect the recovery process. Based on this experience we have prepared a chart specifying the equipment, applications, and the usual problems one may face, and most importantly - the solutions.
Cartridges and filtration systems used for various filtration applications of precious metal recovery – the problems that you may encounter and how to solve them?
No
Cartridge Type
Applications
Usual problems
Solution
1.
Sinter Metal cartridges

Using typically in bulk handling and trapping of catalyst at downstream of Reactor.

Also used in situ Washing/Steaming of cake.

Dry/washed catalyst can be dumped for further process. The process can be batch wise or continuous.

Frequent chocking, typically for very low micron (1-5 micron) rated cartridges.

Chocking can be temporary or of permanent nature.

Adjust back wash cycle time and frequency.

Increase in back wash pressure.

Take out filter bundle and clean by suitable chemical/solvents by forward and reverse flow.

Clean with ultrasonic technology

2.
Glass fiber wound, with SS core

It is generally used as Secondary/tertiary/Safety filter, in catalyst usage.

These are having +95% captures.

Apt for use in high temperature applications.

Can withstand High Delta Pressure up to 2 bar and feed pressure as high as 15 bar

Sealing is by knife edge from both ends.

Sometimes, if the sealing gets offset and catalyst can pass through.

The tightening is only hand tight or slightly more to ensure sealing.

Requires change of filter cartridges with higher delta P or passing of catalyst

Ensure Diameter of knife edge is more than OD of inner core, by at least 4 mm

Align the cartridges properly.

Soft PTFE washers can be installed at both ends.

Monitor Catalyst passing and Diff. pressure

3.

PP wound with SS core cartridges

Generally used as Secondary/tertiary/Safety filters, in catalyst usage.

These are having +95% captures.

Apt for temperature up to 70 deg C applications.

Can with stand High Delta P up to 1 bar and feed pressure as high as 15 bar.

Sealing is by knife Edge from both ends.

Sometimes the sealing gets offset and catalyst can pass.

The tightening is only hand tight or slight more to ensure sealing.

Requires change of filter cartridges with higher delta P or passing of catalyst

Generally, not Recommended for Hydrogen Peroxide Service

Ensure Diameter of knife edge is more than OD of inner core, by at least 4 mm

Align the cartridges properly.

Soft PTFE washers can be installed at both ends.

Monitor Catalyst passing and Diff. Pressure

4.

These are high efficiency cartridges.

The capture is < 99.95 %

The micron rating is as low as 0.2 micron.

Has higher surface area in comparison to normal wound cartridges.

Can be backwashed few times.

Used mainly for recovery of last ppm levels of precious metal.

In situ can be captured metal washed

Need to dislodge the trapped metal, hence small batches need to be employed.

Cartridges to be replaced after limiting delta pressure.

Monitor delta pressure and replace the cartridges

5.

Encapsulated Cartridges

These filters are encased in hollow housing.

Used for last traces from ppm levels to ppb levels,

No backwash is possible.

After the batch is complete, the filter removed and burnt to remove the precious metal ash

When the filter exceeds limiting pressure, add a fresh filter and continue the filtration

Monitor the pressure drop to change the filter
The whole process involves the use of a series of cartridge filters and filtration systems and the sequence is specific to batch size, type of precious metal and the recovery expected. Companies choose refiners after a thorough analysis and research; hence it is of utmost importance for the refiners to maintain goodwill and to build a reputation by using the best filtration equipment available. Partner with Gopani for the best, long lasting and high performing filtration equipment for precious metal recovery from spent catalysts.
Gopani products Systems has all types filter systems with housings of different flow rates and desired efficiency.activated carbon | filter cartridges | cartridge filters | activated carbon filter | filter bags manufacturer | bag filter system | filter housings